Welcome to Alpha PC
Alpha PC is here to build your dream PC, whether it's for gaming, designing, streaming, rendering, we can make it happen. We strive to bring you the ultimate experience and customer satisfaction. We are a company based in Toronto Canada and quickly growing. We are Canada's #1 Custom PC Store and we are here to build.
Previous Builds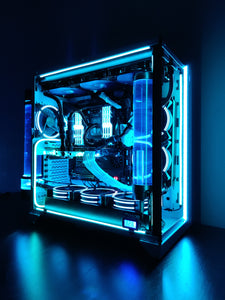 Top of the line workstation build
This PC was built for a landscape designer as he needed the most powerful rendering machine out there. This custom build is made for video editing, designing, photoshop, rendering and everything in between. Threadripper 3990X, RTX 3090, GSkill Royal Z 3600MHz 256GB. Custom water loop.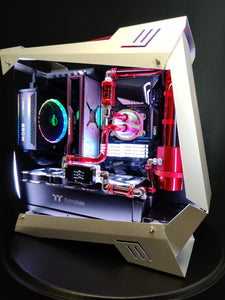 AMD's Most Powerful Gaming PC
This PC is an all aluminum open airflow build. The thick 64x360mm radiator on the bottom ensures maximum cooling for the Ryzen 9 5900X CPU. The open aluminum top easily dissipates heat from the RX 6900XT. The case has dual 35% tinted tempered glass on the right and left side giving it a stealthy look. This powerhouse could run anything you throw at it.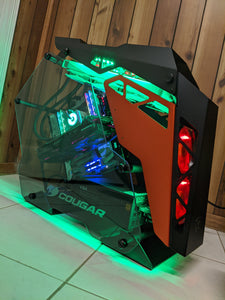 Cougar Extreme Gaming PC
This machine is the Ferrari of cars. This computer was built for an enthusiast gamer that wanted zero compromises on performance and a one of a kind looking machine. This rig shreds through high demand games with ease. We can build this PC apon a custom request.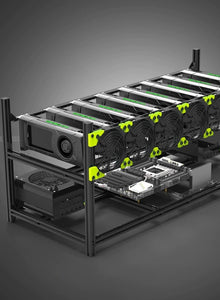 Extreme mining setup
We have experience in building top end mining setups that can pay for itself within time. Crypto currency is becoming extremely popular and many people struggle to build a mining capable station. To request a custom mining rig, click on request custom build on the top.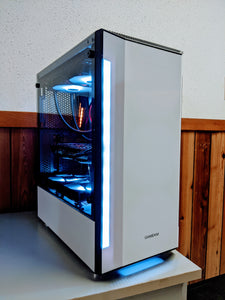 Angel's Wing Custom Build
This white theme build is ready to tackle workload with ease. it's complimented with with lots of RGB options. The White theme stands for "Acrtic" or "Cool". This PC, like all others, is liquid cooled to keep all temps under control at all times, especially on full load.